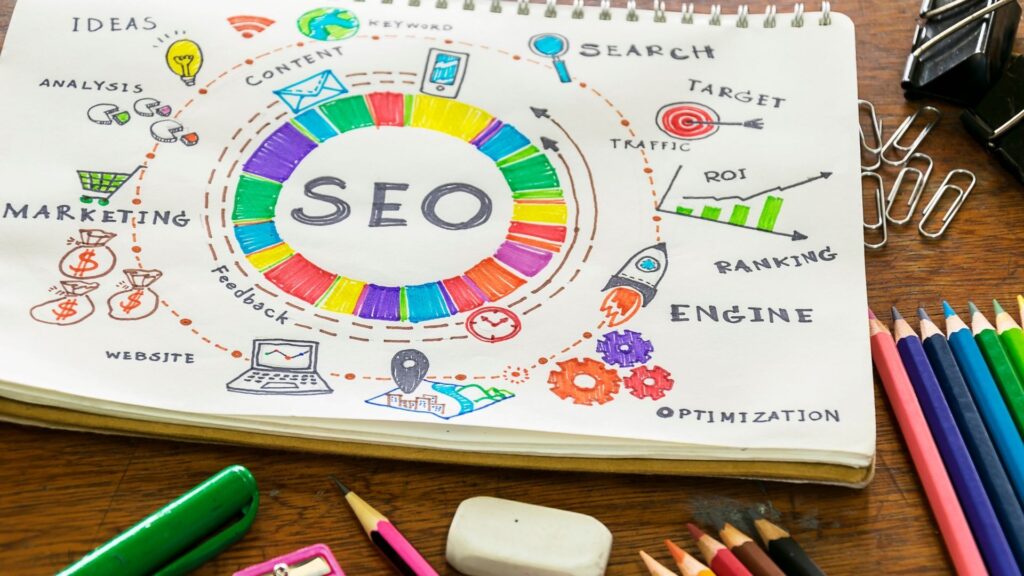 Just creating content that fulfils searchers' intent, answers their queries and is readable by search engines is not enough to rank. In order to compete with other websites that have similar qualities, your site must have authority. This authority can be established by earning quality links from other authoritative sites, gaining audience that will help you to multiply your content and by establishing your website as a brand.    
Remember, in chapter 4, we discussed about quality content? 
Google says that quality content and links are two of the most essential ranking factors. It is commonly observed that sites which are trustworthy, usually link to other sites which appear trustworthy to them. Similarly, spammy websites link to or get link from other spammy websites. 
Now, the question is what's a link? And can a website earn it from other websites? So, to understand this, let's go over some basics related to links.  
What do you mean by links?
External links, also known as inbound links or backlinks are HTML hyperlinks pointing one site to another site. In the internet world, links are the real currency as they are the key reputation determiners. Take an example, you go to a new city and ask multiple people about the best restaurant in that location and all of them tell you that the "XYZ Restaurant" is the best restaurant. So, you will be confident that "XYZ Restaurant" is the best restaurant as many people have recommended it. Similar is the case with links.  
Search engines have been treating links are the key determiner of importance and popularity on the web since the late 90s. 
As far as internal links are concerned, they also work in a similar way but for your own website. Internal links are basically the links that connect internal pages of a particular website. If the number of internal links pointing to a specific page is high, it will indicate Google that the page which has been linked at various locations is important. But, it is to be kept in mind that the internal links are always created naturally. Spammy ones could lead to a negative impact on your site.  
Over time, search engines have improved in viewing the links. The smarter algorithms now evaluate a website and its pages on the basis of links they discover. If you're wondering what algorithms do to allow search engines to evaluate the links, the answer is E-A-T (Expertise, Authority and Trust).
What is E-A-T in SEO?
E-A-T is an acronym for Expertise, Authority and Trust, and it is of key importance as per Google's Search Quality Rater Guidelines.  Websites which lack expertise, authority and trust are considered of lower quality by the search engines, however, those websites which have these qualities are often rewarded. With the improvements in search engines, E-A-T is becoming very important day by day and its key contribution is in solving the user intent. 
SEOs should focus on creating a website which has subject expertise, authority and is trustworthy. This not only makes the website better but also ensures its bright future. The core purpose of Google is also to provide the searchers with a great value. So, why not lead that way? 
Tip: You must care for the user intent
The reason for which a user searches on a search engine is called user intent. If a user searches for "motorbike", it won't have a stronger intent. As it doesn't tell if the user wants to purchase a motorbike or if he wants to browse the information about some motorbike, or if he wants to view pictures of a motorbike. However, if he types "motorbike rental store near me", he has a very strong intent to get a rental motorbike. It is therefore necessary to understand the intent of a searcher and then get content developed which fulfils the need/intent of a searcher.   
Links to your website and E-A-T 
As the popularity and importance of a website increases, the quality of its own links also grows. For e.g., Wikipedia has numerous websites linked, which shows that it appears as an expert, authoritative and trustworthy site to other websites.  
To gain search engines' trust and authority, links coming from other websites having E-A-T qualities play a crucial role. It is not necessary that your site is at the Wikipedia level but it should be providing the users with trustworthy content. 
Difference between Follow vs Nofollow Links
At the beginning of this chapter, we learnt how search engines have been treating links as the key determiners of importance and popularity on the internet. In other words, links are the key voters of a site's expertise, authority and trust. With rel=nofollow attribute, when you're linking to a resource, the link juice is not passed to the search engines. So, if your site's nofollow link is placed on a different web page of your site or website, it will tell the search engines not to follow that link. Some search engines may still follow the link, but the link juice or link equity will not be passed to the linked source. 
Such links can be of use when you're linking an untrustworthy domain to your site or if you've created a destination page. 
Normally, a link would appear as:
<a href="http://xyz.com">Follow Link Example</a>
However, a link that has nofollow markup appears as:
<a href="http://xyz.com" rel="nofollow">No Follow Link Example</a>
A big question: Why not use follow links instead, if they pass link equity?
Sites due to various situations cannot always use the follow links. E.g., social media platforms such as Twitter, Facebook etc. allow you to add your site's link on their profiles. But this doesn't mean that they want to vote for the site and say that they like it. Hence, nofollow links are of great use. 
Also, if you take another example, you take a sponsored ad from another website and place it on all your web pages. In this condition, as you're sponsoring a brand, you would not want to give them unnecessarily a follow link, or pass link equity to their page. It's as simple as that. 
Websites usually have a balance between follow and nofollow links. While a follow link helps in earning link equity, a nofollow link may bring valuable traffic and may also bring leads for your business. 
What is a link profile?
A link profile is an evaluation of all the external links that a website has earned. It includes the total number of links along with their quality, diversity and many other factors. It also assesses if a website is linked to spammy websites or not. Your site's link profile allows search engines to know how it is related to other sites on the internet. SEO professionals can use multiple SEO tools to analyze the link and know its markup.
Here's the list of tools which will help you to analyze your site's links: 
Ahrefs backlink checker

SEMrush

LinkMiner

BuzzSumo

OpenLinkProfiler

Moz Link Explorer   
Key characteristics of a healthy link profile 
With the growing knowledge of SEO, people started knowing the power of links and also manipulated them to gain the advantage. Still, people explore new ways to build artificial links so that their search engine rankings can be improved. Sometimes, such tactics may work, but as per Google, manipulating with links may make either your web page(s) or website deindexed. It is therefore necessary that you always approach to develop a healthy link profile.   
The key advantage of developing a healthy link profile is that it tells search engines that your site is earning links and that too with fair practices. Even while building links, 'honesty is the best policy'. Make sure that your link profile is genuine and is gained by fair methods.   
Placing editorial links or earning them 
When you add links on your website or its pages, they are known as editorial links. 
However, when it comes to earning links, the basic approach is by developing high-quality content which readers/searchers would ideally like to refer. Hence, it becomes very essential that you focus on creating content which is of very high-quality. In other words, such kind of content is known as 10X content. If your website is able to provide the useful, interesting and engaging content/resource, the audience will link it. 
If you want to earn links, you should be focusing on creating a purposeful content which is informative as well as fulfils searchers' intent. 
It is rare when earned mentions are linked
As we just discussed, you should be focusing on earning the links. But, it is a fact that when other websites mention brands or content owners, they rarely link it to the source domain. So, whenever you explore earned mentions, ask the publishers if they can link the mentions to your source domain. 
Effective links come from the websites that have similar topics
Websites which have similar topics provide the most effective links as compared to the sites which are not relevant. If you're a car blog, a link from OEMs like Mercedes-Benz, Audi, BMW etc. is very relevant than a link coming from a technology website. The drawback of getting links from completely irrelevant sites is that they may confuse the engines about your page's core purpose.  
Descriptive, relevant and spam-free anchor text works the best 
The topic of your page is communicated to Google through anchor text. If there are multiple links pointing to a page through different words or phrases used as anchor text, there are chances that the page may rank higher for the mentioned words or phrases. But, while giving anchor text, you need to be cautious because if multiple backlinks are given the same anchor text, this may hint the search engines that you are manipulating to rank in the search results. 
Take an example, you're driving on a highway and on all the approaching milestones, you see the same number of miles appearing continuously for your destination. This will make you suspicious. Same happens with the search engines too. When you're giving an anchor text, it allows the search engines to understand the page topic. If the same description is repeated at multiple sources, search engines may get suspicious. Therefore, it is good not to spam, rather mention anchor texts which are relevant.  
Always focus on links that bring qualified traffic 
When you are building links, you shouldn't just be concerned about ranking on engines. In fact, while building a link you should ask yourself what will happen to this link if Google stops functioning tomorrow. Basically, the idea is that you should give priority to build links that will get you qualified traffic. This also works the other way as this will prompt you to build links from more relevant sites and drive the audience, thus bringing more value to your website and business.  
What should you avoid and don't do while building links?
When you build links in unnatural ways, try to manipulate with them or practise low-quality methods to achieve them, you head to creating a spammy link profile. It may seem very easy to adopt practices such as link exchange, buying links etc., however, these practices could be very dangerous and can be a serious threat to all the hard work that you've done.  
Ensure that you're not heading towards creating a spammy link profile because if Google gets a hint of it, your site could be penalized. The ideal way for linking building is to never tend to manipulate your website rankings in search results. 
SEOs might debate that the goal of SEO is to increase a website's ranking in the search results then why not do link building the way they want to. So, the answer is that Google wants a website to earn links and hence, building them isn't what is ideal. 
Let's go over things that you should avoid so that your site isn't penalized and doesn't head to creating a spammy link profile. 
Avoid purchasing links
Both, Google and Bing do not consider paid links as an ideal way to rank in the organic results. Search engines may not be able to detect which links are paid or earned by just viewing them, however, they may consider the clues through which they can detect the patterns that highlight manipulating practices. If a website is identified being involved in purchasing and selling of followed links, they might be penalized which may lead to a severe fall in the rankings. 
Avoid scaled link exchanges or reciprocal linking
It is commonly seen that random websites send each other emails referring to exchanging links. This could be a little troublesome if it happens at a mass scale. The quality guidelines of Google say that excessive link exchange or other such partner programmes are not acceptable. Hence, such cross-linking activities could be counted as spamming activities. 
At a smaller scale, this may not be a concerning issue as you would like to exchange some valuable links. Also, you'd want to link your partner or people you work with. There could also be some other kind of affiliations wherein you can link back to another sites. So, that is acceptable. However, like we said earlier, if link exchange happens at a mass scale with the sites that have no affiliation to yours, it may penalize your site for spammy activities.    
Avoid building low-quality directory links
Low-quality directory links have been one of the biggest sources of manipulating with the search engines. There are numerous web directories which do the pay-for-placement business. Such sites look similar to other larger websites having lists and they use their descriptions to place links to other external websites. Such directories use the website's critical keyword and then anchor text it through a link pointing to the submitters website. 
Other than these, search engines have also identified other manipulative link building tactics. To counter such mal practices, they have come up with different algorithms. With emerging new spam systems, search engines are introducing new algorithms, collection of spam reports from webmasters, human detections etc. It is therefore good to be as genuine as possible and earn the rewards from search engines. 
Qualities of ideal links:
Should be editorial or earned:

Links should never be purchased, self-created or traded.  

Should be coming from topically relevant sources:

Focus on earning links from the sources whose topics matches with yours. Avoid earning links from sites that may not be relevant to your site's topics. 

Should be pointed from pages with high-authority:

Rather than coming from low-quality websites, links should be coming from pages/websites that have high authority.   

Should be containing relevant and natural anchor text:

Avoid keyword stuffing while writing the anchor text. Make sure that the links use relevant and natural anchor text. 

Should be increasing with the time:

With the time, the quantity of earned links should amplify. It is not good to get the links created in one go and then there is no growth in the count. 

Should be a mix of both, follow and nofollow:

To achieve a healthy link profile, you need to have links which are both follow and nofollow. 

Should be a source of bringing qualified traffic to your website:

It is to be understood that links are not just for the search engines to crawl, index and rank. They should also be a source for people to use. Make sure that you have earned links that will send a right set of visitors to your website. 

Should be either naturally earned or strategically targeted:

It is very important that the links are thoughtfully given and do not generate automatically.   
Methods to build high-quality backlinks
Link building is done in various ways but before you plan for your link building techniques, you should be well aware that the link campaigns align with your goals. Let's know some of the most popular methods used for link building campaigns. 
Ask partners and customers for links
If your website has loyal customers who like your brand or, if you have partners who work with you on a routine basis, you can easily earn links from them. You may offer partnership certificates/badges as a gesture to your partners which will prompt them to mention you on their platforms, thus creating higher chances for building links. You can also ask your loyal customers to write product testimonials.   
Blogging is a great way to earn links
Through content, link building is way more easier and is also recommended by Google's engineers. You can consider starting a blog section on your website. The blogs are not only a great way to inform the potential customers about the products and services that you offer but also they can improve your conversions and earn you listings and links from other blogs. 
However, you must avoid opting low-quality guest posting for link building as Google doesn't recommend this at all. 
Come up with unique resources to boost link building
It can be a great strategy to create high-quality, unique resources. If these high-quality content resources are promoted well, they can earn a lot of shares. You can create content that has either of the following characteristics:
Projects emotions such as joy, sadness etc.

Tells something new to the audience or communicates something in a contemporary way.

Looks visually engaging

Mentions present-day needs or interests 

Targets a particular location (E.g. Buy Christmas gifts in Liverpool).
By creating such resources you can attract multiple links with a single page. You can also think of creating a resource which is very specific to a set of audience, such as an ebook for some teachers, a a list of publishers for authors etc. Though it won't be very scalable or appeal a bigger set of audience, but its success rate is going to be very high. 
The audience that will see this content would like to share it in its network and if such resources come across the tech-savvy webmasters or bloggers they are very likely to link them. Such editorially earned, high-quality links are very effective and can positively impact the trust, rankings and authority for your website. 
Construct resource pages
To build links, resource pages are one of the best ways. But you need to know some advanced level Google operators so that finding them becomes very easy. 
Let us take an example, when you do link building for a company which is into manufacturing bearings, you can search for: 
intitle: "bearings".   
Once the results appear, you may decide which pages can be a good target for link building. You can get an idea what kind of resources should you be creating so that these pages can refer them and link. 
Start exploring your local community
If you run a local business where customers can meet you in person, it is good to explore the local community as this may get you some very high-quality links. 
You can get involved in activities such as: 
Running local competitions

Providing scholarships and sponsorships

Hosting or participating in seminars, community events, workshops and organizations

Offering jobs and internships

Joining local business associations 

Donating for purposeful local causes
Such strategies can prove to be very favourable for your business and can also help you to get local link opportunities. 
Tip to build links for local SEO
For local SEO, you can use non-directory platforms such as blog or news website to provide your business' contact information. This strategy can be a key contributor in your website's ranking and is also a worthy way to get valuable links for your local business. 
Revamp the top-performing content
The content that earns your site the maximum traffic, retains visitors for a longer time, or converts the most can be your key instrument in building links. 
You can revamp that content to use it on other platforms such as Slideshare, Quora, Youtube, Instagram etc. Publishing content on such platforms enables you to drive audience from sources other than Google.  
Older content can also be updated and tweaked to publish on the same platform. If there is any content piece that requires updation and is already used by the industry websites as a reference source (linked to other websites), it is better to update it and let the linked websites know of the updation done. This may further prompt them to revisit the source and can also bring in new visitors through those websites, creating further possibilities to earn links.  
Images can also be used to earn links. If other websites are using your images and have not linked or cited you as a source, you can approach them if they can include a link of yours as a source. 
Think of being in the 'News'
Keeping press, news media and bloggers involved in your website is another great approach that can help you earn links quite easily. When brands come up with new products, reports, controversial research collaterals, they catch the attention of the media and are very likely to earn links from reputed news portals, publishers or bloggers. 
Personalized reach / Genuine approach
SEO professionals make a common mistake of not drafting a personal, customized email while proposing other domains to link your site. Sending random and bulk emails can appear spammy to the receiver and thus, it can reduce the chances of your site being linked to their site. Whenever you plan to send an outreach email, please keep these tips in mind:   
Make the email more personal by mentioning their name, highlighting the agenda. It shouldn't appear as a spammy email in any case.    

Consider providing value in the email by letting the other party know what is the intent of your email. E.g., you may want to communicate the other website about a broken link on their web page, which might not be working on the mobile view.   

Keep the messaging short and crisp and pass on your contact details so that the other party can contact you. Also, you can request them if they can provide you with their contact details. Talking over the phone can help you build rapport as well as great relations with other websites, which can be beneficial for link building in future.  
NOTE: Earned links should be measured to prove success and value 
You should be able to measure your link building and examine if its metrics match up with your website's overall KPIs which could be page views, sales, email subscriptions etc. You should also be able to evaluate the Page Authority / Domain Authority scores, the traffic achieved from content and the ranking of your keywords. We will be discussing measuring the SEO success in the next chapter (Chapter 7). 
How to measure and improve your link building efforts?
Now, you have a clear understanding of the importance of getting quality links to your website and you also have learnt what all tactics can be used to achieve the same. Let us now understand through what all ways we can measure the return on link building strategies and investment so that we can plan for a continuous quality backlink growth. 
Check the total number of links
To measure your link building efforts, the most common approach is to track the growth of total links coming to your website or its page. Remember we mentioned a list of tools in this previous section of this chapter? You can use those tools to check the total number of links a webpage or your website has earned. 
Tools like Ahrefs backlink checker, SEMrush, LinkMiner etc., allow you to enter the link in the search bar and then see the status of your month-on-month link growth. 
Tip: Detoxing is also very important 
For SEO professionals, not only acquiring quality links is essential, but also cleaning/removing the links that are toxic. While toxic links are removed a fall in linking sites is very normal in the link graph. You must ensure that a backlink is gained from high-authority or trustworthy domains and links which are toxic, coming from spammy websites or sites that are not functional anymore, are removed at the earliest. There are many toxic link checking tools that you can use to get rid of such links. Popular among all is SEMrush, widely used by SEO professionals all across the globe.  
If you find that the backlink count that you aimed for is not achieved, you need not lose hope. You just have to learn from your every link building campaign and try improving your strategy. You can consider the following questions to improve the count of total links you want to achieve in your next campaign: 
Was your content 10x better as compared to other content pieces?
It may happen that the content you have targeted for your link building efforts was not as good as other content pieces. You need to check the pages ranking for the term you have targeted for link building and see if you find something more valuable for your content. If you find scope to improve the content, just do it. 
How did you promote the content?
One of the most difficult aspects of link building is content promotion. Until and unless you have a solid strategy to let people know about your content and convince them to link that content on their website, a successful link building cannot be achieved. 
Did you gauge the number of links needed to rank for a keyword?
You need to consider the number of links that you may need to rank for a particular keyword that you want to target. For this, you can use the "SERP Analysis" report in keyword planner where you can view the pages for the keyword that you want to target. It will also tell you the number of backlinks that those pages/URLs have. Analyzing this will allow you to determine the number of links that you require to compete along with the website which could be a good target to build links. 
Were the earned links of great quality? 
A link coming from a source having high authority has more value as compared to ten links coming from different low-quality websites. Therefore, it is to be understood that only the quantity of links is not important. While targeting a website to build backlinks, you should prioritize on the basis of the website's Page Authority and Domain Authority metrics. 
Other than links, how awareness, augmentation and sentiment influence Domain Authority
Various methods that you use for link building also help you in building your brand indirectly. In other words, when you build links, you increase the awareness of the brand through the topics you have your command and the products/services that you provide. 
When your audience starts knowing your brand and you're able to create content which is worth sharing, you must make your audience aware about it. When you utilize social media to share your content, you not only make them familiar with your expertise and content, but also prompt them to spread that awareness with their networks. This helps you to amplify your own reach. 
Many of you may wonder if both social shares and links are just the same. So, the answer to this is 'No'. Social shares can allow you to promote your content and augment the traffic which can lead to a growth in brand awareness. This growth can work in your favour by increasing trust and building links. Although, the relation between rankings and social signals is indirect, but it can help you in making strategy. 
Trust can bring you more results than expected
Trust, from search engines' point of view, is evaluated through the quality as well as quantity of links a domain earns. But many other factors, along with trust, can impact your website's authority. So, trust comes when the following things are considered:  
Build brand awareness –

Spreading words about your brand through different mediums makes people aware of it. 

Provide support –

When you support your searchers/customers with answers to their queries, you gain their trust. 

Consider quality –

When you offer products or services which offer more value than others, people tend to trust you more.  

Value integrity –

Your commitment can help you gain trust. People will start liking your brand if they see that you do what you say. 

Effective communicator –

If your brand is an effective communicator and leaves a long-lasting impression, people start liking and trusting it. 

Positive sentiments –

If people say good things about your brand, share their great experiences, it works in your favour.  

Continuous value –

Brands that are good at offering value to its customers, even after providing products or services, are considered reliable and trustworthy. 
Another thing that is worth mentioning is reviews. It is rightly said that reviews are one of the key builders of trust in the online world. Products or services, or the brand itself is often reviewed by the customers/visitors in the internet world. And these reviews have the power to make and break a business. Be it e-commerce portals, or the apps on play store etc., reviews play a crucial role. 
You can consider the following tips to gain authority through reviews: 
Do not hire any agency or individual to post fake positive reviews for your business or fake negative reviews for your rivals.  

To get the reviews written, do not bribe or offer incentives.  

You or your staff should not review your own business or the businesses of your rivals. 

Reviews must come directly from the customers, through their own accounts. Also avoid posting reviews on behalf of your customers. 

Avoid setting up review kiosks or stations at your business location. If multiple reviews come from the same IP address, it will be counted as spam. 

Go through the guidelines of the review platform which you wish to incorporate to take customer reviews. 
Review spam is serious offence in the internet world and is countered at global levels. If you violate the terms of reviews, you can be legally prosecuted or fined heavily. So, avoid facing the dangers of fake reviews. Go the genuine way and earn the reviews of customers by providing them with great experiences. This will not only help you in gaining the trust of your customers, but will also help you to build online authority progressively.  
It is to be understood that when brands focus on doing things that are exceptional in the real world, do efforts to make their customers happy, provide content that is worth sharing and earn links from authoritative sources — 'Authority is successfully built'.
Now, let's move to the next and final chapter of our beginner's guide to SEO and learn the art of Measuring and Tracking the SEO Success.